What We're Reading this Autumn
What makes the autumn reading stack this season?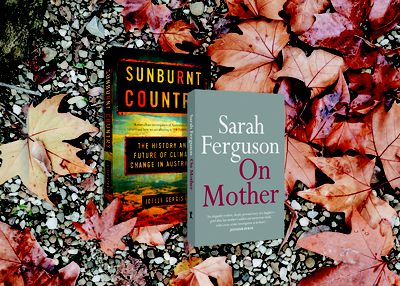 To be constantly reading is truly a dream. MUP staff share what they're currently reading and the incredible books that are being worked on while the weather gets colder.
Tessa Connelly, Senior Publicist
Reading...
Right now, I'm reading Pachinko by Korean-American novelist Min Jin Lee. It's an epic, intergenerational family saga (probably my favourite type of story) which spans Japan and Korea, pre-WWI to 1989. It reminds me a bit of Middlesex by Jeffrey Eugenides, which I love, and Lee's voice is completely transporting – it takes great skill to persuade adult readers to suspend their disbelief and enter a fictional world, and Lee's world is vivid.
Working on...
I'm currently touring the east coast with Joëlle Gergis, a climate expert whose book Sunburnt Country: The History and Future of Climate Change in Australia is inspiring audiences to connect with the reality of climate change in our beautiful country. It's been a sobering but optimistic tour, and I'd recommend the book to any general readers who want to know more about what the future of climate change looks like for Australia, and what action we can take to mitigate further destruction.
On planes and in hotel rooms, I'm digging my teeth into Shireen Morris's forthcoming Radical Heart, out in July. Shireen makes us privy to the inner workings of policy makers and offers a personal take on the journey for constitutional recognition of Indigenous Australians. This is obviously a good one for anyone interested in Indigenous issues, policy or constitutional recognition, but will also find an unexpected audience in young, professional women for whom Shireen's career trajectory is interesting and hugely uplifting! Joëlle and Shireen are two awesome women doing incredible work in their respective fields.
Louise Stirling, Senior Editor
READING...
I've just finished The Trauma Cleaner by Sarah Krasnostein, which interweaves trauma cleaner Sandra Pankhurst's work with her harrowing childhood and her extraordinary journey as an adult. Over Easter I read The Lebs by Michael Mohammed Ahmad, which was a bit of an eye-opener, and am now delving into Jennifer Egan's A Visit from the Goon Squad.
Working on...
The books I have had the joy to work on recently are Shireen Morris's Radical Heart, Rick Morton's One Hundred Years of Dirt, Katharine Murphy's On Disruption and Sarah Ferguson's On Mother. All very different but equally compelling in the stories they share.
Rebecca Fowler, Communications Intern
Reading...
I have just started SPQR: A History of Ancient Rome, by Mary Beard. SPQR explores how Rome grew from a small village amongst seven hills to an empire spanning the Mediterranean. I'm only a few pages in but I have already learned a lot, such is the skill of Beard's writing.
I also just finished the best-selling thriller The Woman in the Window by A. J. Finn. After hearing this compared to The Girl on the Train, I had to pick it up. This novel ticks all the crime thriller boxes whilst still remaining orginal. Exploring agoraphobia, substance abuse and memory loss, there is a rich world to be delved into.
Working on...
I've been working on various tasks for Donald Grant's upcoming Killer Instinct as publication date approaches. A gripping book that asks what it is about murder that fascinates us whilst also assessing the line between good and evil. A good read for anyone interested by the murderous mind, as Grant works his way through real-life cases and their unique elements.
Tess Smurthwaite, Meanjin Deputy Editor
Reading...
I'm currently re-reading Jenny Zhang's Sour Heart in preparation for her Wheeler Centre event next Monday. I came to her writing last year after reading her essay The Summer I Learned I Wasn't the Exception and I am continually taken by her touching, funny, enlightening way with words. I'm also dipping into a collection of short stories by Gerald Murnane, which was recently re-published by Giramondo. Murnane's stories, some of which made their debuts in Meanjin over the past few decades, are examples of his uniquely Australian voice and masterful control of language.
Working on...
At the moment I'm putting the final touches on Meanjin's Winter 2018 edition before it goes to press. There's a wealth of exciting content in this edition, including some very fine pieces of fiction, as well as many thought-provoking essays important to national discussions of gender, race and equality. I've also been editing a couple of essays that will soon be published on the Meanjin blog, including a film review by Ellen van Neerven and a reflection on Tongan-Australian identity by Winnie Dunn, among others.
Recently I've been browsing the Meanjin archives with a view to uploading some of our long-forgotten pieces online, so that they can be accessed by everyone. We'll shortly be launching a series of special landing pages featuring the complete Meanjin contributions of Australian greats such as Patrick White, Dorothy Hewett and Gerald Murnane – watch this space!
---