Why Australians Are Obsessed with the Weather
Weather Permitting: Lawrie Zion charts the the temperature of modern weather media and investigates how it has fuelled our fascination with all things climatic.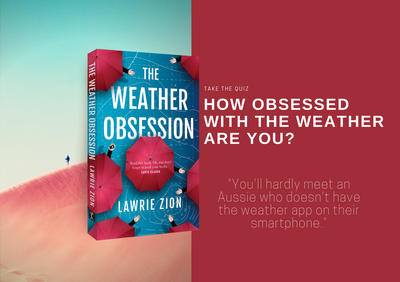 What do we all talk about incessantly? The weather. It's not unwarranted: anyone who lives in Australia long enough knows they will inevitably be subject to its unrelenting climate shifts. Hot days where you feel like sludge and the unexpected breeze coming in from that cold front. Talking and keeping tabs on the weather is typical Australian behaviour. But what degree of obsession is normal?
"You'll hardly meet an Aussie who doesn't have the weather app on their smartphone."
Rate your weather worries; find out how obsessed with the weather you are with our quiz.
If you want to delve further into your fascinbation with all things climatic, take a peek at Lawrie Zion's The Weather Obsession.
Journalist and academic Lawrie Zion refers to himself as "a weather tragic", i.e., a person whose obsession with weather (including monitoring and predicting it). His own obsession dates back to childhood, when he would visit the Bureau of Meteorology, engrossing himself with statistics. But gone are the days of getting your weather forecast from the back of a newspaper. At the heart of The Weather Obsession, is an exploration of our changing climate and the media's response to it.
FOR ONE WEEK ONLY: The Weather Obsession is on sale for $20.00 (down from $29.99). Get your copy now!