World Environment Day: MUP's Recommended Reading
Celebrate World Environment Day with our selection of nature, climate change and sustainability titles.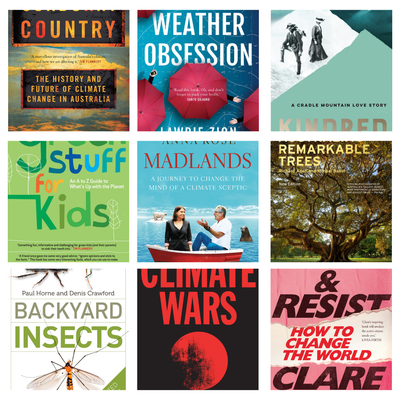 "
The foods we eat, the air we breathe, the water we drink and the climate that makes our planet habitable all come from nature. Yet, these are exceptional times in which nature is sending us a message: To care for ourselves we must care for nature. It's time to wake up. To take notice. To raise our voices. It's time to build back better for People and Planet. This World Environment Day, it's Time for Nature."
Worldenvironmentday.global
Learn more about climate change, conservation and sustainability, or simply garner a greater appreciation for nature with our list of recommendations for World Environment Day.
Nature
Climate Change
Sustainability
Rise & Resist by Clare Press
Rise & Resist takes a wild trip through the new activism sweeping the world. The political march is back in a big way, as communities rally to build movements for environmental and social justice. But today's context calls for increasingly creative strategies to make our voices heard. Crossing the globe, Clare Press meets passionate change-makers who believe in the power of the positive. From eco warriors and zero wasters to knitting nannas, introvert craftivists to intersectional feminists, they're all up for a revolution of sorts.

Clare Press is a writer, speaker, expert on sustainable and ethical fashion, and Vogue Australia's first Sustainability Editor-at-Large. Read more about Clare in her interview with The Cut earlier this year.


Greeniology 2020 by Tanya Ha
Do you want to live well, be green and make a difference? There's never been a better time to reduce your personal impact on the environment and prepare for change as our society moves towards sustainability. With topics covering everything from green cleaning and eco-fashion to growing food and saving energy and water, Greeniology 2020 is a practical, fun guide to changing your lifestyle for a healthier home and healthier planet.


Green Stuff for Kids by Tanya Ha
Green Stuff for Kids is a young readers' guide to what's up with the planet and what they can do to make a difference. Jam-packed with fun facts, eco-activities, information and green tips, this book covers a huge range of environmental issues and hot topics, including air pollution, biodegradability, climate change, e-waste, litter, natural disasters, recycling and water conservation.