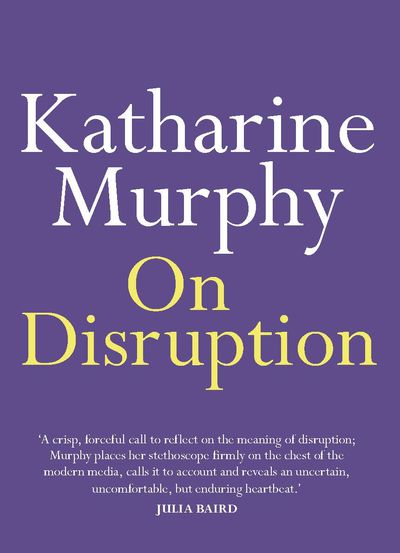 An extract from "On Disruption"
In this extract from On Disruption, Katharine Murphy looks at the demise of thoughtful long-term policy making and the 'new, now' news cycle. Read the entire extract over at Guardian Australia.
Conflict is not a new commodity in news. It's always been critical. One of my early journalistic mentors told me it wasn't really a news story unless there was conflict, and preferably the conflict needed to appear by the third paragraph. But media disruption has intensified the conflict cycle, compressing it into smaller, louder, intraday bursts, and those constant interruptions have a material impact on political decision-making, both here and around the world.
Conflict is absolutely essential to the democratic process. It is a mechanism to settle contested points of view, or determine they can't be settled. The process of legislating is active conversation between competing worldviews, interests and ideologies – a kind of structural balancing. But a couple of things are happening. The "new, now" news cycle, where minute developments are reported in real time, means internal processes of consideration and decision-making, as well as the external process of negotiation, are disrupted much more frequently.
The disruptions then often materially affect outcomes – governments change course, drop ambitious ideas, shape shift to try to avoid an unmanageable stakeholder backlash. Activism on social media also intervenes, and the combined effect is a ceaseless public commentary that now sits as an adjunct to policy making. Martin Parkinson, the secretary of the department of the prime minister and cabinet, reflected on this phenomenon in late 2017. He said the contemporary media cycle was focused on "gotcha" moments and sensationalising routine internal government processes, which then had a ripple effect on internal deliberative procedures, stirring up rent seekers and what he politely termed "stakeholders".
"You begin to try and have a conversation with stakeholders about an issue and all of a sudden the social media campaigns are running either for or against the policy option," Parkinson told Glyn Davis, the vice-chancellor of the University of Melbourne, on Davis's podcast The Policy Shop.
Parkinson said stakeholders now take definitive positions on policy before it is finalised, and the tempo has increased as a consequence, "and that makes it much, much harder to do this sort of thoughtful, careful analysis and policy design that in the past we were able to do".
Former Labor cabinet minister Greg Combet expressed a similar view when I interviewed him in 2017 for a long-form piece about the toxic work environment of modern politics that was published in Meanjin. He lamented the absence of time to think and reflect.
"With technology and social media, the issues just move now with enormous dynamism," Combet said. "In years gone by, 20 or 30 years ago, issues could be considered more thoroughly. One issue could keep coming back to cabinet on a regular basis. Now everything needs to be determined more efficiently. Things get easily reported in the media, you have to react to them. All of the circumstances mitigate against carefully considered long-term public policy."
As well as the constant disruption to routine political deliberation, political conflict also appears to have entered a new phase.