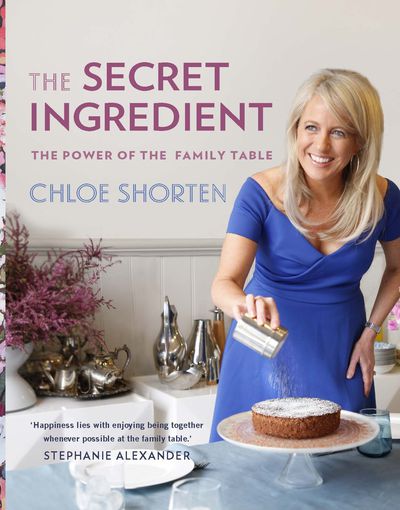 An extract from "The Secret Ingredient"
November – 'Difficulties are confiments of life'
Much of a parent's work in families with more than one child is teaching them to respect one another. In stepfamilies, I've learned meals together are a fundamental peacekeeping force, a way of getting everyone to understand each other, share daily experiences and points of view, and that the more times we sit together and break bread, the greater the chance to understand and accommodate each other—even if that sometimes means squabbles, tears or frustrations. How we conduct and resolve dinnertime conflicts are vital life lessons.
We love a good motto in the Bryce family—ours is 'Take Heart'. It's so optimistic and reassuring—it's also a call to be courageous when things are difficult and to remember that on the other side of hard times life is wonderful. The coat of arms has a deer with a wattle sprig in its hoof. The wattle symbolises Australia, there's a doctoral cap for Mum, the compass and protractor is for my architect father, the five stars represent the kids, and the cross of St Andrew refers to our Scottish heritage.
Meals and togetherness are one of the things that fortify us when we are having a bad time. Childhood is a roller-coaster of emotions: challenges; hormones; heartbreaks; good and bad days in the playground, sports field or during social hangouts; exam ups and downs, bereavements, triumphs, injuries, crushes and convalescences. It's hard to predict when the kids will open up and talk, and sometimes as parents we hear about the disappointments or hurt late in the night after lights are out, or when driving in the car, and often at the table.
Frequently the table is where we unburden ourselves; even if it means there are tensions or arguments, we can tell each other what's on our minds during the safety of the family meal.
In times of stress, children rely on a familiar routine. It's often one of the first things that changes for families that are under pressure, when marriages are under stress or family members are dealing with illness. When I separated from my first husband I knew it was best to try to keep the children in their routine as much as possible. This can be really difficult for men or women who lose income and resources at the same time and are parenting alone.
---
This is an extract from The Secret Ingredient: The Power of the Family Table by Chloe Shorten.