ANU/The Canberra Times Meet the Author Series: In Conversation with Paul Kelly and Troy Bramston
Paul Kelly and Troy Bramston will be in conversation on their new book, The Truth of the Palace Letters: Deceit, Ambush and Dismissal in 1975, a conversation moderated by Michelle Grattan. 
Visit the Australian National University website for more information and to make a booking for this free event.
---
Paul Kelly is The Australian newspaper's Editor at Large. He is the author of nine books on Australian politics and history including the influential The End of Certainty: Power, Politics and Business in Australia (1992) and Triumph & Demise: The Broken Promise of a Labor Generation (2014), his account of the Rudd-Gillard era. Present at Parliament House in Canberra on the day of the Dismissal, Kelly has covered this controversy ever since and has written several books on the subject, most recently The Dismissal: In the Queen's Name (2015) with Troy Bramston.
Troy Bramston is a senior writer and columnist with The Australian. He is the author or editor of nine books, including Paul Keating: The Big-picture Leader (2016), which was a finalist for the Walkley Award and shortlisted for the National Biography Award; Robert Menzies: The Art of Politics (2019); and Rudd, Gillard and Beyond (2014). Bramston has interviewed most of the key players in the dismissal and has made a number of significant archival discoveries about the event.
Michelle Grattan AO is one of Australia's most respected political journalists and a former editor of the Canberra Times. Michelle currently has a dual role, as Professorial Fellow at the University of Canberra and as Chief Political Correspondent at The Conversation.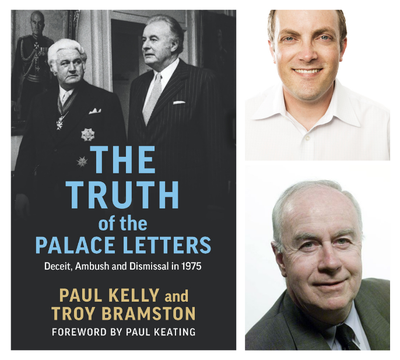 When
12 November 2020, 6:00pm
Where
Australian National University
Cinema, Cultural Centre Kambri Precinct, University Avenue, Australian National University, Acton ACT 2601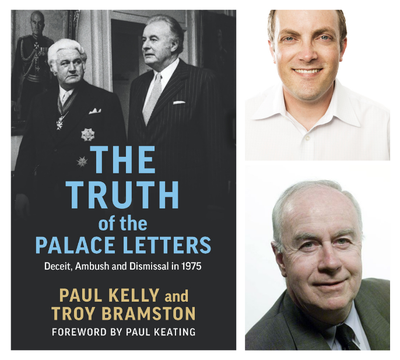 When
📅
12 November 2020, 6:00pm
Where

Australian National University
Cinema, Cultural Centre Kambri Precinct, University Avenue, Australian National University, Acton ACT 2601