Eat, Drink and be Literary with Gareth Evans & Laura Tingle
Professor Gareth Evans will join Laura Tingle in conversation to discuss his new book, Incorrigible Optimist: A Political Memoir, in which he looks back over the highs and lows of his public life as a student activist, civil libertarian, law reformer, industry minister, international policymaker, educator and politician. He explains why it is that, despite multiple disappointments, he continues to believe that a safer, saner and more decent world is achievable, and why, for all its frustrations, politics remains an indispensable profession not only for megalomaniacs but idealists.
"
"Gareth Evans's career serves as an inspiration on how a spirit of optimism coupled with a keen insight for the art of the possible can create real positive change. In this lively memoir, he takes us through some of the most important developments in Australian and international politics. The man that emerges is truly one of Australia's leading figures and one of the world's great internationalists."
KOFI ANNAN
Professor the Hon. Gareth Evans, now Chancellor of The Australian National University, was a member of the Australian Parliament for 21 years, and a cabinet minister throughout the Hawke-Keating era.
Laura Tingle is the Political Editor of The Australian Financial Review. Laura has over 30 years' experience as a reporter covering markets, economics and politics. Laura has won two Walkley awards and the Paul Lyneham award for Excellence in Press Gallery Journalism.
Pre-dinner book signings and a cash bar will be available from 6.15pm in the Common Room of University House. Book signings will also take place after the dinner. 
Dinner starts at 7pm. Tickets are $70 per person and includes a two-course meal, a glass of House wine, tea and coffee.
Book your ticket here.
If you would like to be seated with other guests, please specify this during the check-out process. We will do our best to accommodate your request.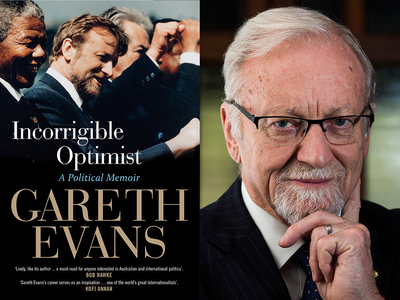 When
11 October 2017, 6:15pm
Where
University House
1 Balmain Crescent Acton ACT 2601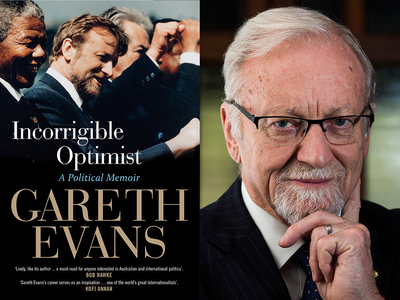 When
📅
11 October 2017, 6:15pm
Where

University House
1 Balmain Crescent Acton ACT 2601