For those who've come across the seas: Gillian Triggs and Nick Martin in conversation
In the March issue of Meanjin, doctor and detention centre whistleblower Nick Martin documents the unpleasant, sometimes hellish, truth of what is happening in the Australian detention camp on Nauru.
'It doesn't take long to break a man. You can do it in a second, in one punch, one judgment handed down, one small gesture. I've seen it happen ... To watch someone break over a period of months was a different thing altogether... That's what I saw as a doctor in Nauru.'
Frustrated and appalled, Martin would turn whistleblower in the end. In Meanjin's 'Diary of a Nauru Doctor', he describes the living mental, physical and bureaucratic hell of Australia's detention regime, and explains how what he saw on Nauru forced him to make that experience public.
Hear Nick Martin in conversation with the former head of the Human Rights Commission, Gillian Triggs, introduced by the Human Rights Law Centre's Arif Hussein.
Dr Nick Martin is a GP. He trained in the UK, and is a former surgeon lieutenant commander with the British Royal Navy and has worked around the world including in conflict zones. He worked as a senior medical officer on Nauru from 2016-17.
Emeritus Professor Gillian Triggs served as president of the Australian Human Rights Commission for five years until July 2017. She is a Vice-Chancellor's Fellow at the University of Melbourne. She is the author of Speaking Up to be published this year by Melbourne University Publishing.
Mr Arif Hussein is a lawyer working with refugees and asylum seekers through the Human Rights Law Centre. He has been on four deployments to the Manus Island regional processing centre.
This event will launch the Autumn 2018 edition of Meanjin, copies will be available for purchase after the conversation.
Admission is free. Bookings are essential. You can register your interest here. For more information, visit arts.unimelb.edu.au/australian-centre.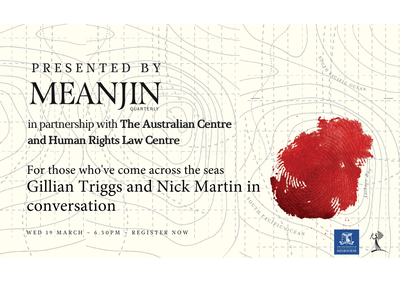 When
14 March 2018, 6:30pm
Where
The Australia Centre
Forum Lecture Theatre, Level 1, Arts West (bldg 148), Parkville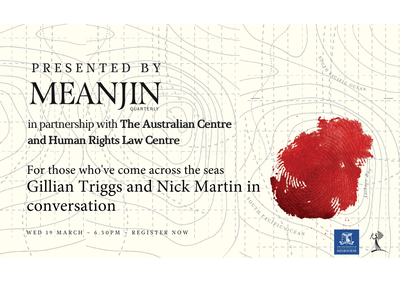 When
📅
14 March 2018, 6:30pm
Where

The Australia Centre
Forum Lecture Theatre, Level 1, Arts West (bldg 148), Parkville