Gareth Evans in conversation with Chris Bowen MP at Victorian Trades Hall
Professor Gareth Evans will join Chris Bowen MP in conversation to discuss his new book, Incorrigible Optimist: A Political Memoir.
In his book Professor Evans looks back over the highs and lows of his public life as a student activist, civil libertarian, law reformer, industry minister, international policymaker, educator and politician. He explains why it is that, despite multiple disappointments, he continues to believe that a safer, saner and more decent world is achievable, and why, for all its frustrations, politics remains an indispensable profession not only for megalomaniacs but idealists.
We hope you are able to join us at this event and hear first-hand insights into the life of one of Labor's longest-serving federal Cabinet Ministers and one of Australia's most commended political and international leaders.
'Lively, like its author... a must-read for anyone interested in Australian and international politics'.—BOB HAWKE
'Gareth Evans's career serves as an inspiration... one of the world's great internationalists'.—KOFI ANNAN
Tickets are $20 waged, $10 unwaged. Book here.
Book signings will take place after the conversation.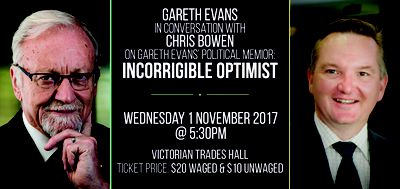 When
1 November 2017, 5:30pm
Where
Victorian Trades Hall Council
54 Victoria Street Carlton, VIC 3053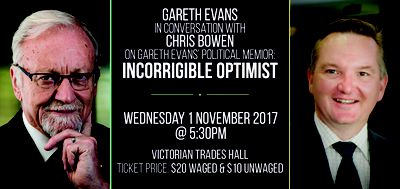 When
📅
1 November 2017, 5:30pm
Where

Victorian Trades Hall Council
54 Victoria Street Carlton, VIC 3053