Gareth Evans in conversation with George Megalogenis at Readings Hawthorn
At this event, Gareth is in conversation with George Megalogenis. George is an author and journalist with three decades' experience in the media. The Australian Moment won the 2013 Prime Minister's Literary Award for Non-fiction and the 2012 Walkley Award for Non-fiction, and formed the basis for the ABC documentary series Making Australia Great.
Gareth Evans was a Cabinet member throughout the Hawke-Keating years, as Attorney-General (1983-84), Minister for Resources and Energy (1984-87), Minister for Transport and Communications (1987-88) and Foreign Minister (1988-96). As Senator for Victoria from 1978 to 1996, he was Deputy Leader (1987-93) then Leader of the Government in the Senate (1993- 96); as Member for Holt (1996-99) he served as Deputy Leader of the Opposition from 1996 to 1998. He left Australian politics to become President and CEO of the Brussels-based International Crisis Group from 2000 to 2009, and has been Chancellor of the Australian National University since 2010.
In this sometimes moving, often entertaining, and always lucid memoir Evans looks back over the highs and lows of his public life as a student activist, civil libertarian, law reformer, industry minister, international policymaker, educator and politician. He explains why it is that, despite multiple disappointments, he continues to believe that a safer, saner and more decent world is achievable, and why, for all its frustrations, politics remains an indispensable profession not only for megalomaniacs but idealists.
Tickets are $5, price includes a glass of wine.
Please book here.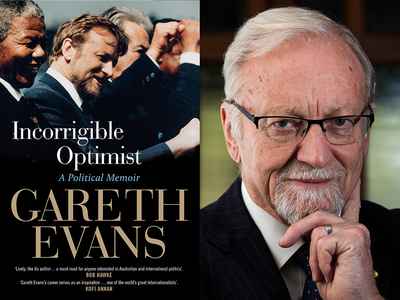 When
9 October 2017, 6:30pm
Where
Readings Hawthorn
701 Glenferrie Rd, Hawthorn VIC 3122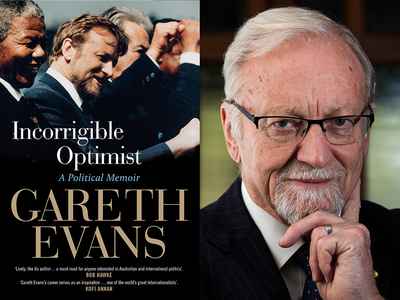 When
📅
9 October 2017, 6:30pm
Where

Readings Hawthorn
701 Glenferrie Rd, Hawthorn VIC 3122