Launch of Intelligence and the Function of Government
Intelligence plays an important, albeit often hidden hand, in the everyday function of government. Australia's intelligence agencies—collectively referred to as the Australian Intelligence Community (AIC)—are an established and fundamental component of the bureaucracy: they keep watch on potential problems in the name of national security, exploit weaknesses in the name of national interests, and build a picture of the complexities of the broader world for their consumers—other domestic government departments, partner intelligence agencies overseas and, most importantly, Australia's policy-makers.
Their aim is to provide the government with 'information'—for that is essentially what intelligence is—to better enable it to tackle the issues confronting it; to be better armed, informed and forewarned of what might lay ahead; and to facilitate coherent policymaking.
But we should not expect intelligence to be perfect, nor should we think that good intelligence guarantees good policy. Intelligence and the Function of Government draws on a wide range of experts including academics, former and current strategic advisers, private industry professionals and intelligence community experts, to provide a diagnostic, clear-eyed approach in explaining, assessing and exposing the central foundations and frameworks necessary for the effective practice of intelligence in Australia as well as the shaping of intelligence expectations.
Entry is free, but please RSVP here.
Paul Symon AO Major General (Retd), Director-General, ASIS After graduating from the Royal Military College Duntroon in 1982, a career in the military followed, spanning 35 years and culminating in the rank of Major General, From 2011–14, Paul was Director of the Defence Intelligence Organisation and, prior to that, served as the Deputy Chief of the Australian Army from late 2008 until 2011. In mid-2015, Paul left the military and joined the Department of Foreign Affairs and Trade. He was subsequently appointed as Director General Australian Secret Intelligence Service from 18th December 2017.
Dr Daniel Baldino is the Disciple Head of the Politics and International Relations program at the University of Notre Dame, Fremantle. He has published a wide range of research specialising in Australian foreign and defence policy, security governance, counter-terrorism, intelligence studies and the politics of the Indo-Pacific. He is an Associate Editor for the Journal of the Indian Ocean Region. He is also currently the Western Australian chapter convener for Australian Institute for Professional Intelligence Officers (AIPIO).
Dr Rhys Crawley is an historian at the Australian War Memorial where he is writing the Official History of Australian Operations in Afghanistan, 2005-10. He is also a Visiting Fellow at the Australian National University and an Adjunct Lecturer at the University of New South Wales, Canberra. His previous projects include the Official History of the Australian Security Intelligence Organisation, and the Official History of Australian Peacekeeping, Humanitarian and Post-Cold War Operations.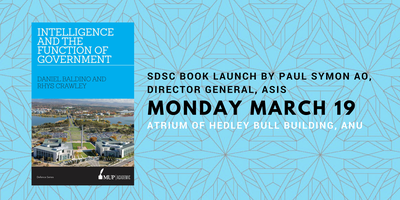 When
19 March 2018, 5:00pm
Where
Atrium
Atrium, Hedley Bull Building (130) Garran Road, ANU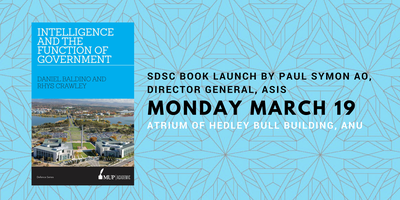 When
📅
19 March 2018, 5:00pm
Where

Atrium
Atrium, Hedley Bull Building (130) Garran Road, ANU