Meanjin Spring Issue Launch: Jane Rawson in conversation with Harry Saddler
'Between 1970 and 2012, according to the World Wildlife Fund, the population of non-human vertebrate animals on Earth dropped by 58 per cent. There are half as many individual non-human animals as there were 40 years ago.'
In the spring issue of Meanjin, Jane Rawson details 'The Invisible Extinctions' that are wiping so much life from our planet. It's a powerful essay with a sobering message: the hallmark of the Anthropocene is mass extinction.
Join Jane Rawson, and naturalist and author Harry Saddler in conversation with Meanjin editor Jonathan Green, an exploration of life, death and the untold subtleties of animal consciousness.
This event will launch the Spring 2018 edition of Meanjin. General Admission $5.00, present your ticket for a $10 discount off the cover price of the new Meanjin, RRP $25. Copies will be available to purchase after the event.
---
Jane Rawson writes novels, novellas, stories and nonfiction, mostly about the environment. Her latest novel, From the Wreck, was longlisted for the Miles Franklin Literary Award. She is also the author of A wrong turn at the Office of Unmade Lists, a novella, Formaldehyde,and the non-fiction book The Handbook: surviving & living with climate change.
Harry Saddler is the author The Eastern Curlew: The Extraordinary Life of a Migratory Bird. His previous books include Not Birdwatching: Reflections on Noticing Animals. His non-fiction writing deals with the ecological, physical, and philosophical interactions between humans and animals.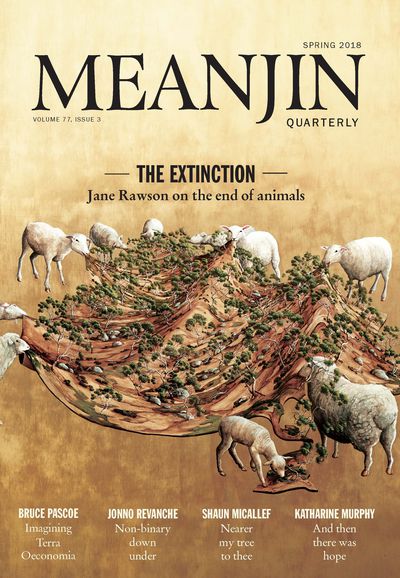 When
11 September 2018, 6:30pm
Where
Australian Centre
Forum Theatre, Level 1, Arts West, University of Melbourne, Parkville, VIC 3010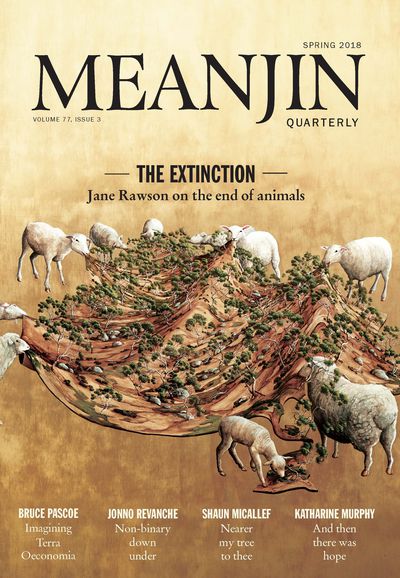 When
📅
11 September 2018, 6:30pm
Where

Australian Centre
Forum Theatre, Level 1, Arts West, University of Melbourne, Parkville, VIC 3010